Vorsicht vor iPod nano und iPod shuffle Fakes!

Apples iPod gilt als der weltweit bestverkaufte MP3-Player. Im vergangenen Jahr verkaufte Apple 32 Millionen i-Pods. Diese gewinnträchtigen Produkte ziehen immer wieder Firmen nach sich, die sich gern ein Stückchen vom Kuchen abschneiden möchten. So warnt Apple seit geraumer Zeit seine vor gefälschten iPods!
Die Fälscher haben es besonders auf den iPod nano und den iPod shuffle abgesehen. Die Nachahmerprodukte sehen auf den ersten Blick aus wie das Original, einige haben teilweise sogar eine gültige Apple-Seriennummer. Bei genauem Hinsehen fallen jedoch deutliche Unterschiede auf. So befindet sich beispielsweise die Kopfhörer-Buchse bei der gefälschten Variante an einer anderen Stelle als beim iPod. Zudem fehlt beim Fake-Pod der so genannte Dock-Anschluss.
Der nachgemachte iPod nano besitzt ein längeres und schmaleres Display als das Original. Wie es heißt, soll er ohne USB-Kabel verkauft werden und verwende eine andere Software. Auch das "Clickwheel", mit dem man den iPod nano steuert, fehle. Stattdessen besäßen die Fälschungen nur ganz normale Steuerknöpfe. Auf den von zum Beispiel von AppleInsider veröffentlichten Bildern ziert ein nettes Symbol für "Play" und "Pause" die Mitte der Steuerung: allerdings nur bei der Fälschung!
Auch vom iPod shuffle finden sich zahlreich Plagiate. Beim so genannten "super shuffle" der Firma Luxpro wurde nicht nur die Modellbezeichnung dreist kopiert. Auch die Fälschungen, die momentan im Umlauf sind, sollen dem Original auffallend ähnlich sehen. Die Verpackungsboxen werden ebenso nahezu perfekt kopiert, inklusive Apfel. Doch auch bei diesem Modell haben die Produktpiraten nicht auf alles geachtet: Dem Fake-Exemplar fehlt die Shuffle-Funktion und die Beschriftung der Knöpfe stimmt nicht überein.
Laut dem Bericht nimmt Apple die Angelegenheit sehr ernst und will rechtliche Schritte gegen die Nachahmer einleiten.
Fazit: Es gilt auch bei diesen hochwertigen HighTech Produkten das gleich Prinzip wie bei Designerkleidung: Qualität hat immer ihren Preis, und es lohnt sich etwas mehr anzulegen, wenn man nicht auf schlechte Fakes hereinfallen will! Schauen Sie sich das Original-Produkt erst einmal ganz genau an, bevor Sie sich im Internet auf die Suche danach machen, um es zu einem Schnäppchenpreis zu ergattern. So ersparen Sie sich viel Ärger und Nerven und je besser Sie das Produkt selbst kenne, desto geringer ist die Gefahr, hereingelegt zu werden!
Schauen Sie als iPod lover doch mal in unseren Trendsandbrands Shop! Wir führen momentan die sensationellen Paul Smith iPod Cases des berühmten englischen Designers! 100% Original und das perfekte Geschenk für jeden Musikfan!
Über einen Besuch bei uns im Shop würden wir uns sehr freuen! Wenn Ihnen unser kleiner Ratgeber gefallen hat wäre eine positive Bewertung toll, vielen Dank!

Apple's iPod has become so popular that counterfeiters are making their own versions and passing them off as authentic. At first glance, the fake iPods appear very real. Apple is warning its resellers of the existence of these fake iPods and how to identify them.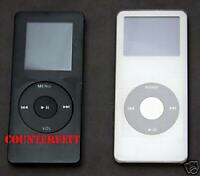 The fake iPod nano's screen is very different in shape.Other differences: non-standard headphone jack, no dock connector.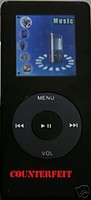 The interface, however, is nothing like the iPod interface.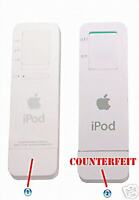 Note the On/Off switch on the fake iPod shuffle has no "repeat" setting. Also no battery light indicator.

Watch out! iPod nano und iPod shuffle Fakes on eBay!

IPod Nanos are one of the most wanted electronic items on eBay at the moment. Unfortunately eBay is flooded with fakes, this guide will tell you how to tell fakes from real iPpods, help you avoid having to have your searches flooded with fakes and help you decide whether you want an IPod or a fake.
Here you'll find a list with some main differences between IPods and Fakes.
- The click wheel: The most obvious difference between an iPod and a fake is the click wheel below the screen. On real iPods the click wheel has four symbols on it. These symbols are at the top, bottom, left and right with nothing in the middle. The symbols are; MENU at the top, Rewind on the left, Fast Forward on the right and Play/Pause at the bottom.
Fakes have the same basic design though the button layout is very different. Fakes have an M at the top, Rewind on the left, Fast Forward on the right, VOL at the bottom and Play/Pause in the middle.
- The Screen: Some fakes have a different screen like the white one shown above; others however have done a good job and got the screen right. The differences are that iPods have a rectangular screen that looks as if the rectangle is on its side fakes also have a rectangular screen though the screen may look as if it's on its end and/or have writing beneath it (see above).
- The Back: Although sellers rarely take pictures of the back it contains important information that only a real iPod would have. This includes the Apple logo and company name, storage capacity and information regarding trademarks. On fake iPods the back is normally just white or black depending on its colour. Unfortunatly Apple's website doesn't have a picture of the back, they do however have an interactive photo gallery which lets you view the IPod from any angle. I would give you the link though eBay doesn't allow non eBay links. Here are some basic instructions. Go to apple.com.au, click on store up the top of the screen, click on IPod Nano and scroll down to the bottom where there should be a link. Note: Requires QuickTime.
- Capabilities: Fake iPod Nanos have the same capabilities as the real thing and then some more even! If you see an auction for an iPod with the following capabilities then it is fake; MP4 Video, FM Radio, Voice Recorder and FM Recorder. IPods have a 1.5-inch display capable of viewing pictures. They obviously play music in several different formats and have extras such as games.
- Avoid Fake Auctions: If you have recently searched for iPod Nanos you will have had your searches flooded with fake iPods here is how to avoid this. Simply type iPod Nano into search, hit the hyphen key (-) and without a space type in MP4. Search. This will exclude all listings with MP4 in their titles which most fakes do. Note: this works with all searches.
If you don't know whether to get a fake or a real iPod then this may help you out.Fakes are almost always cheaper and have more multimedia functions including video. iPods have superior MP3 playback and are known to be top of the line. Many sellers do not claim their products to be real iPods though some say the are IPod Nanos or newer versions of iPod Nanos!
Finally: It the same case with designer clothing: high quality standards have their price, and you should be aware of that at all times! Be suspicious of all cheap auctions! If you take those informations given above seriously, you will find a good and new and authentic iPod!
And we have the perfectv iPod case for all of you iPod lovers: the famous Paul Smith iPod Case!! Only in our Trendsandbrands Shop, come and check it out! The perfect gift for every iPod lover!
If you think this giude was helpful for you, we'd be happy about some positive feedback of course! Thanks a lot!