LACOSTE – Schützen Sie sich vor Fakes!
Niemand muss heute mehr Opfer von Produktfälschern werden, denn die Topmarken der Fashionindustrie sichern sich durch technologisch immer ausgefeiltere Methoden gegen den Betrug ab. Leider tummeln sich auf dieser Plattform unseriöse Verkäufer, die Ihre gefälschte Ware als Original anpreisen. Unser Ratgeber weist auf alle unverkennbaren Merkmale der authentischen Lacoste Kollektion hin, und soll dabei helfen Echtes von Gefälschtem zu unterscheiden.
Wenn Sie also sicher gehen wollen, kein Opfer von Fake-Händlern zu werden, achten Sie auf unsere Hinweise und am sichersten: kaufen Sie in Zukunft risikolos bei uns ein! ;-)
Wenn Ihnen unser Ratgeber weitergeholfen hat, dann würden wir uns über eine positive Bewertung von Ihnen sehr freuen!

Lacoste Polohemd – Merkmale eines Originals
- Das Krokodil: Auf einem echten Lacoste Polohemd ist das Krokodil (bei Herren eine gestickte Applikation, bei Damen aufgedruckt) auf folgender Höhe zu finden: zwischen letztem Knopf und Ende des Knopfreihenschlitzes. Bei Fakes meistens zu tief aufgesetzt! Das Krokodil selbst muss sauber gestickt sein, mit scharf umrissenen Zähnen und Füßen. Es sollte nicht aufgebläht und unscharf wirken.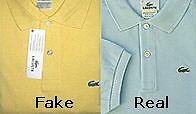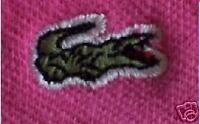 Fake Original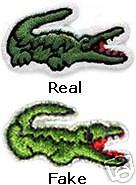 - Knöpfe: an den Knöpfen ist das Fake Shirt meist ganz schnell entlarvt, denn echte Lacoste Knöpfe sind gefertigt aus einem echten Naturprodukt: PERLMUTT! Das bedeutet im Klartext: haben Sie Plastikknöpfe, haben Sie ein Fake! Haben Sie identische Knöpfe, haben Sie ein Fake! Denn kein echter Perlmuttknopf gleicht einem anderen!! Die Farbe der Knöpfe kann variieren, je nach Shirtfarbe. Manchmal ganz weißes Perlmutt, manchmal eingefärbt, aber IMMER unikates Perlmutt, niemals Plastik und jeder Knopf ein Unikat! Die Knöpfe sind ganz einfach, keine Schrift, Zahlen oder Zeichen darauf!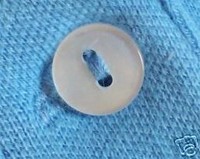 Fake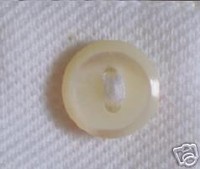 Original
Original
- Etikett: Vertrauen Sie nicht auf den Aussagewert beigefügter Papieretiketten etc., die sind leicht zu drucken! Schauen Sie sich aber das Etikett im Kragen Ihres Poloshirts genauer an: es muss weiß sein mit "Lacoste" unten und dem Krokodil darüber und der Größenangabe in Zahlenangabe (!) oben links. Sollte die Größe in Buchstaben angegeben sein, haben Sie ein Fake!


Das Krokodil sollte ZWEI unterscheidbare Augen haben, Fakes zeigen oft nur ein Auge! Innen weiter unten muss ein echtes Lacoste Shirt ein "Devanlay" Etikett haben, egal auf welcher Seite – das hängt davon ab, wo man das Shirt erworben hat. Auch nicht alle Lacoste Shirts sind Made in Peru (nordamerikanischer Markt) oder made in France, in Frankreich findet man echte Lacoste-Shirts made in Morocco!
- Qualität: das Shirt selbst ist sein bester Zeuge! Ein echtes Lacoste ist aus feinem weichem Stoff! Sehr weich und relativ dünn gewebt! Sie sind niemals dick, rau oder schwer! Sie fühlen sich förmlich teuer an. Der Kragen dagegen ist ziemlich kräftig und dick. Er muss hochklappbar sein und oben bleiben! Wenn er in sich zusammenfällt: Fake!

ACHTUNG: alle diese Merkmale müssen bei einem Original Lacoste Artikel gegeben sein, nicht nur ein oder zwei davon! Die Fälscher selbst verbessern Ihre Produktionen stetig und schaffen es manchmal, das ein oder andere Merkmal nachzuahmen!!
Schützen Sie sich vor Fake-Käufen, indem Sie auf diese Dinge achten und schenken Sie uns seriösen Verkäufern auf Ebay Ihr Vertrauen. Was gibt es Ärgerlicheres, als später festzustellen, dass man sein Geld für billige Asia-Fakes ausgegeben hat, oder - noch peinlicher - sie sogar an jemanden verschenkt hat!
Werfen Sie einen Blick in unseren Shop und profitieren Sie von unseren neuen Winterangeboten und Sonderaktionen. Um immer auf dem Laufenden zu sein, tragen Sie sich in unseren Trendsandbrands- Newsletter ein!
Bei weiteren Fragen stehen wir Ihnen jederzeit gerne zur Verfügung!Wenn Ihnen unser Ratgeber weitergeholfen hat, dann würden wir uns über eine positive Bewertung von Ihnen sehr freuen! Vielen Dank!

Lacoste – Spotting the Fakes!
Don't get fooled with cheap Asia-Fakes anymore! You have a buyer protection garanty when you buy over ebay and pay with paypal . Ever since Lacoste had ist revival lately, this platform is polluted with fake-sellers who advertise their products to be authentic Lacoste. Especially in the new collection the label protects itself through hightech features on their products, which are almost impossible to copy. So be aware of those signs of authenticity for Lacoste, and check out our list below, if you wanna be sure to buy the Original, and – to be absolutely sure- next time buy at our shop!
I want to focus my analysis on the Lacoste designer clothing brand line. Companies like Lacoste spend a great deal of investment on brand building and quality control. However, with the prevalence of overseas sweatshops and people buying Lacoste clothing online, fake knockoffs have been spreading through the internet marketplace like wildfire and many buyers are unwittingly ending up with fakes. While a genuine Lacoste polo shirt can cost an average of $80-100 per shirt, buyers of fakes are frequently getting ripped off for shoddy products worth substantially less. Whether it makes any sense to pay so much for a mere polo shirt is another matter. The fact is, buyers have to be able to ensure they are getting the high end quality product they are paying top dollar for.
Unlike authentic Lacoste clothing, fakes and knock offs simply don't wear and feel like the real thing. Sometimes it's easy to spot the fake, but sometimes the differences are much more subtle. It's easy to know it's a fake when you are only paying $10 for a supposedly genuine Lacoste shirt off a street vendor, but what about when you are buying online? Many of the tips and telltale signs provided below can also be used for other designer clothing brands as well.
Here Are Some Of The Things To Look Out For To Determine Whether A Lacoste Shirt Is A Genuine Or Fake


Lacoste Polo Shirt - Signs of Authenticity
- The Crocodile: The first and most obvious sign that you have a fake Lacoste polo on your hands is the placement of the croc itself: on a real shirt, you will find the croc positioned between the bottom button and the placket of the shirt. Most fake shirts place the croc even with the placket. If you have a shirt with the croc lined up with the placket, you have a fake- there are no exceptions to this rule! As far as the croc itself, it should be well defined, with sharp teeth and distinct feet. It should NOT be bloated or distended in any way, shape or form.
The Lacoste Crocodile Patch - Lacoste's famous trademark symbol is its Lacoste crocodile logo patch. This is one of the easiest way to spot a fake. A genuine Lacoste crocodile should be very distinct and should show scales, claws, and teeth. Any variation from this detailed standard should be deemed a fake, as high end designer brands like Lacoste spend a great deal of effort to ensure quality and uniformity. For the men's polo shirts, the crocodile is embroidered on a patch then sewn onto the shirt, rather than printed directly on the shirt. In the women's, it is printed onto the shirt. The Lacoste crocodile symbol should be attached seamlessly with no obvious white stitch marks attaching the patch to the shirt.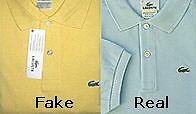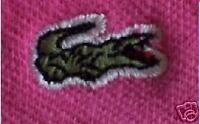 Fake Original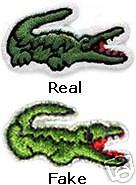 - Buttons: Lacoste polos come with mother of pearl buttons- these are organic, meaning they're harvested from living things – meaning you CANNOT have two identical buttons! Ever!! If your polo has two white buttons that are plastic, you have a fake Lacoste. If your buttons are identical, you have a fake Lacoste. The colour of the buttons will vary depending on the shirt colour- some come in white, some in the colour of the shirt, etc. - but the one constant is that they are NOT plastic buttons. The buttons also should not have ANYTHING on them- no logo, no text, no nothing.The real Lacoste buttons should not have anything printed on them either. If they have the word "Lacoste" on the button, the shirt is a fake.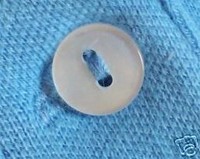 Fake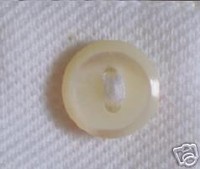 Original
Original
- Tags: Don't be swayed by declarations of poly bags and authentic tags. Anyone with a printer and a manufacturing facility to make fakes can make these.
Instead, pay attention to the tag inside the collar of the shirt. It should be white, with LACOSTE at the bottom, the croc above, and the size, in numbers (!), in the upper left corner. If your shirt has letter sizing, you have a fake. The croc should have TWO distinct eyes- the fakes only have one eye. An authentic Lacoste shirt will have a "Devanlay" tag on the inside of the shirt in the torso area- it can be on either side, depending on where you bought your shirt and where it was made. Not all Lacoste polos are made in Peru. In France you'll find also made in Morocco. It would appear that most North American polos are made in Peru however.
- Quality: The proof ist he shirt itself! Real Lacoste polos are soft. Very soft! They use a very fine weave, and are fairly thin. They are not bulky, and they are not heavy. They even feel expensive! Other things to look out for is the collar- it should be fairly thick and sturdy- you should be able to pop the collar fairly easily, and it should stay up!Cloth Material - Genuine Lacoste clothing should be made of 100% soft cotton and neatly threaded. There should be little to no loose threading as is frequently found on shoddy and inferior knockoffs. The cuffs on the sleeves should not appear shredded and the stitching should not come loose only after a few washes.
- Method of Sale and Purchase - Many eBay sellers will insist and claim that their Lacoste products are real and authentic, but 90% of them are either wrong or lying. Unfortunately, even by checking their feedbacks isn't necessarily sufficient to protect you from fakes since many buyers themselves cannot readily distinguish the fakes from the real thing until it is too late. Lacoste does not have factory discount outlets, but sells its products through select distributors at premium prices. Be careful if you decide to buy through an online auction or through an amateur supplier based in Asia as many are the works of scam artists. I highly advise against buying from such shady sources and recommend sticking with more reputable and established Ebay shops.
ATTENTION: Since the fake producers sometimes manage to copy one or two of these authenticity signs, make sure that all of them apply to your Lacoste product!
Protect yourself from fakes and make sure you buy real Lacoste quality products from honest sellers on Ebay! Check out our Trensandbrands Shop, cause with us you're on the safe side! We carry all the European and US high brand labels for reasonable prices with lots of winter specials right now!
We'll be happy to answer any further questions!If you think this giude was helpful for you, we'd be happy about some positive feedback of course! Thanks a lot!