What is required if I want to charter a yacht?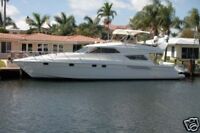 Viking Motor Yacht
In Germany you need legal assistance because motor of the recreational license, not a sailing license, such as sports Coast skipper slip (SKS).
What the individual lessor would have liked, is obviously different.
Abroad, such as Netherlands or Scandinavia, you need absolutely no sham.
Sports coast Schiffer slip (SKS)
This official license is the most sought first career goal "for aspiring offshore sailor. It is recommended for skippers, with a yacht in coastal areas up to 12 nautical miles off the coast want to sail. The SKS is considered by many Yachtvercharterern proof of proficiency required.
Only the combination of driving recreational lake and the SKS at sea, the required skills in seamanship, navigation law, navigation, tides and weather customer.
Prerequisites for the sport coastal Schiffer slip (SKS):
* From 16 years
* SER lake
* Ersegelte proof than 300 miles on boats in coastal areas
For the SKS is a theoretical and a practical exam. The entire examination must take place within 2 years.
The theory test consists of a questionnaire, a task cards and possibly an oral examination. Advanced knowledge of the
- Navigation
- Of seamanship,
- Of maritime law and
- The weather customer demonstrated.
In the practical test, the theoretical knowledge about the driving of a yacht in coastal waters implemented and applied. Apart from the compulsory task (rescue maneuvers) are selected maneuvers and other skills must be provided.
Cheers Helmut (Langendreer)