Early American Prescut Glass (EAPC) is a very popular glassware pattern on eBay. Because of the popularity of my first EAPC guide Early American Prescut (EAPC) Glass: Then, Now, and Forever, I have also written this piece-by-piece guide about the EAPC pieces specifically with the Star of David Pattern. This guide will present pictures of each piece (that I have available to photograph) with a brief description of each. As more pieces become available for me to photograph, I will add them to the guide.
INTRODUCTION
EAPC was first manufactured by Anchor Hocking Glass Corporation in the year 1960. Manufacturing of most of the EAPC pieces was stopped in the late 1970's, but a few pieces (like the very common sugar bowl, creamer, and cruets) were made until the late 1990's.
EAPC was manufactured in two (2) similar and, yet, distinct patterns and these separate patterns have each been given commonly used nicknames by the collecting community: "Star of David" and "Oatmeal". I have also heard people refer to "Oatmeal" as "Wheat". "Pineapple" has also been lumped into the EAPC umbrella by collectors, but this pattern originated almost 20 years before EAPC. To learn about each patterns, distinctions, please see my other EAPC guide Early American Prescut (EAPC) Glass: Then, Now, Forever.
I recently learned that the "Oatmeal" pattern was not intended by Anchor Hocking to be an EAPC pattern. It was listed in Anchor Hocking's catalog as Prescut glass rather than Early American Prescut Glass. Many people who buy and sell on eBay use the term EAPC for the "Oatmeal" pattern and, therefore, it makes sense to continue calling "Oatmeal" an EAPC piece.
With that being said, the Star of David pattern is really the only TRUE EAPC pattern as originally intended by Anchor Hocking.
BOWLS
There are sooo many pieces of EAPC out there. Where should we start? Why not with bowls?!
7-1/4 Inch Bowls
I have personally seen two (2) different 7-1/4 inch diameter bowls. One bowl has a scalloped rim (on the right below) and one has a smooth rim (on the left below). The smooth rim is a little less deep than the scalloped rim (because of the absense of scallops). According to a recent Glassware collecting resource (which I will name later) the smooth rim is more desirable than the scalloped rim.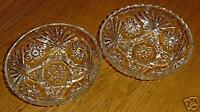 9-inch Oval and 5-1/4 inch Bowl
The 9-inch oval bowl is shown at the bottom of the photo below and the 5-1/4 inch bowl is shown in the top right next to the 7-1/4 inch bowl. All three of the bowls shown have scalloped rims. The 5-1/4 inch bowl is one of my FAVORITES because it is great for serving dips and spreads!!!!!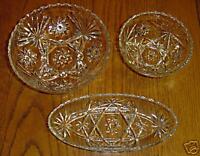 6-3/4 inch, Three-toed bowl
This 6-3/4 inch diameter dish (shown below) has great possibilities for holding water and one floating candle or a spherical shaped candle. I've always used it as more of a decorative piece than a serving dish.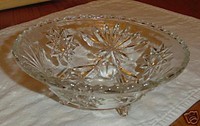 5-1/4 inch Round Candy Bowl
This 5-1/4 inch diameter bowl with lid (in the photo below) is great for holding small amounts of candy. I like it better than the large candy dish, because it takes up less surface area in a house that is already full of glassware. I've also used it as a receptacle for jewelry items.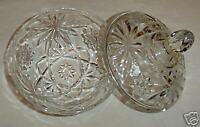 There are many more bowls that I will adding to my guide soon such as the:
4-1/4 inch

5-3/8 inch dessert

8-3/4 inch

9-3/8 inch gondola

10-3/4 inch salad
DRINKABLES
I had a difficult time determining the title of this section that deals with all pieces relating to beverages. I chose "Drinkables", but I am sure there is a more appropriate title that escapes me at the moment.
Juice Tumbler
This 4-inch tall EAPC juice tumbler (shown below) is very similar to the Prescut "Oatmeal" juice tumbler and it confused me for some time. I had 6 of the "Oatmeal" and only one of the "Star of David" for several years. As expected, the "Star of David" is slightly more sought after.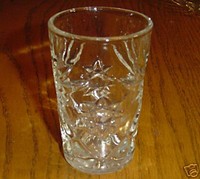 Punch Cup
If you think that the EAPC punch cup shown here looks exactly like the Prescut "Oatmeal" punch cup, then you are exactly right. Anchor Hocking used the same design for the Oatmeal cups and the EAPC "Star of David" cups. Even though there are no stars on the cups, these are the cups that match the EAPC punch bowl.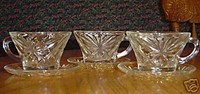 It seems as though I have 100's of these cups. They are plentiful and somewhat difficult to sell on eBay. I've found that I can sell them when pairing them with the "Oatmeal" saucers, as shown above.
Coaster
Speaking of saucers, I've shown an "Oatmeal" saucer next to an EAPC coaster. Notice that the coaster (shown on the left) is significantly smaller than the saucer.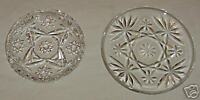 The coaster is a beautiful jewel and is somewhat popular on eBay. Unfortunately, its small diameter and scallopped rim make it difficult to utilize with today's broad based cups and glasses.
PLATES AND PLATTERS
10-inch Snack Plate
The 10-inch snack plate, shown in the photo below, are difficult to sell for more than $1.99 on eBay. (However, the 6.5-inch snack plates can sell for around $35 each.)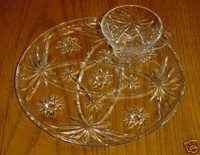 Both plates have cup rings that fit the standard EAPC punch cup. The 10-inch snack plate is very pretty, but it is heavy and does not function well in a "mixer" environment. If your guests will be eating while sitting down, these plates function very well and allow for a lot of snack food!!!
DEFIES DESCRIPTION
A fellow EAPC lover and eBay member (bivzbabe), sent me a photo of a new find that she adores. It appears to be an EAPC juice tumbler mounted on a gold plated stand. (I intended to include a photo here, but I'm having a problem uploading it.) Its beautiful, but we are not sure what it is. If you have any information, please let me know! Thanks!
CONCLUSION
I will be adding more pieces to my guide soon! I just don't have enough time in this one sit-down session.
RESOURCES
A great resource for all collectors of vintage glassware is the the book "Collectible Glassware from the 40s, 50s, 60s" by Gene and Cathy Florence. The 8th Edition (most recent) is absolutely amazing with full color photos for every pattern as well as pricing guides. This book is a joy to read and a great help to those of us who buy and sell.
Another great resource for EAPC collectors is "Anchor Hocking's Fire King and More" by Gene Florence.
If this guide has been helpful in any way, please vote "Yes" below. I appreciate it!