COLLECTIBLE CHARACTER WATCHES - DISNEY LORUS MODELS
(Please take a moment at the conclusion to vote for this guide. We enjoy creating these to offer our fellow eBayers information that is hard to find elsewhere, and ask in return only that you place a vote so that we know if they are well received. Positive votes encourage us to continue with additional guides.)

Many of the more modern Disney collectible character watches available today were manufactured by Lorus, a division of Seiko, from 1986 to the late 1990's. Seiko was awarded the plum license for manufacturing Disney watches in 1986, after it was relinquished by Bradley and Helbros, and they are the major manufacturer for Disney watch models to this day. Most of these early collectible Disney models were manufactured under Seiko's subsidiary, Lorus, which was established in 1982. While at that time Lorus was a relative newcomer to the comic character watch field, they manufactured some classic models in their earlier years that are considered "must-haves'" by knowledgable character watch enthusiasts. These were manufactured under both the Lorus and the short-lived Jaz labels. This guide refers to a number of watch models manufactured from 1986 to approximately 1998, most of which can be found in collector's watch guides and reference books as key collectible Disney watch models that no serious watch collection should be without.
(Please take a moment at the conclusion to vote for this guide. We enjoy creating these to offer our fellow eBayers information that is hard to find elsewhere, and ask in return only that you place a vote so that we know they are well received.)
MODELS
One of the first character watches produced by Lorus is the metal Mickey and Donald watch, manufactured in 1986. Inital sales were sluggish and the model was discontinued after one year. This, along with the fact that it's one of the only watch models shown with Mickey and Donald on the dial, sent the value zooming and this is now a valuable collectors model sought after avidly by many enthusiasts. It's featured in several character watch collection guides.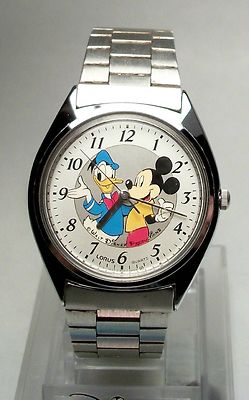 Another one of the initial Disney watches manufactured was this Mickey Mouse watch. This was available in both large and small sizes, in both a white dial background and another with a golden yellow tint. A third model was created that was similar, but with a glow-in-the-dark dial. This light-up watch is hard to find and is considerably more valuable than its plainer counterparts.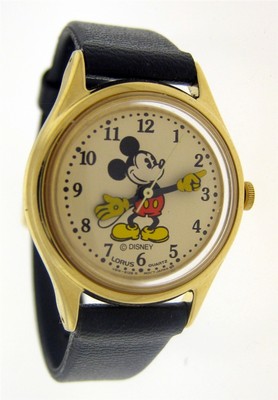 Another huge hit for Lorus was the Goofy watch. This was a reverse mechanism timepiece that had the numbers placed backwards on the dial, with the movement turning the hands in a counter-clockwise direction. While difficult to follow at first, telling time with this unusual collector's piece became easier over time and customers thrilled over the uniqueness of this model. The watch was made in 1991 in both a silvertone and goldtone case/dial, with a slim supple leather band in black and brown, as well as another model that mimicked the Mickey Mouse watch with a glowing dial. All of these original Goofy watches are highly sought after collectors pieces. The demand grew so great that Disney is now offering a new model Goofy watch under it's "collector's series". This is very similar to the original Lorus model, but with the "Disney" logo printed on the dial rather than the Lorus logo found on the original.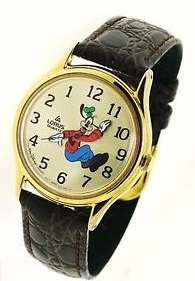 Lorus also created a number of watches in 1990 that were cheaper to produce than the standard stainless steel case watches. These watches feature larger dials, thin leather bands, and a black plastic case that opened in the back only to replace the battery. The insides of the watch were not accessible on this model. Characters included Mickey Mouse, Goofy, Donald Duck, Scrooge McDuck, Pluto and Mickey, and others.
Two other popular Mickey Mouse models with the "Hollywood Mickey" watch with Mickey shown in a running pose, with a filmstrip style black and white strap. Another model showed Mickey in a similar pose, with a glow in the dark outline on a black background with a black strap. 1988 was the 60th anniversary of the birth of Mickey Mouse. Lorus celebrated with a series of watches manufactured for the occasion.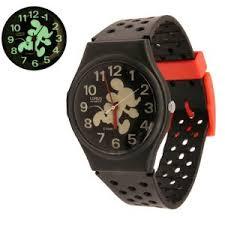 In 1990 Lorus also began producing what many believe to be the "cream of the crop" of Lorus Mickey Mouse watches. These were a wide range of character watches that chiefly featuring Mickey Mouse, with many unique and highly desirable features such as musical melodies (some watches playing more than one tune); large gleaming goldtoned cases with small legends engraved next to functions buttons; animated dial functions such as the "dancing" star-tipped second hand that kept time to the musical tune and moving Mickey arms; glow-in-the-dark dial capability; and screw-down steel casebacks. Another distinctive features was the beautiful, unique leather bands featuring imprinted patterns and textures; small metal Mickey related icons attached to the straps; and ornate embossed buckles. Several of these were initially manufactured under the short-lived Jaz label and are the most desirable of all these models.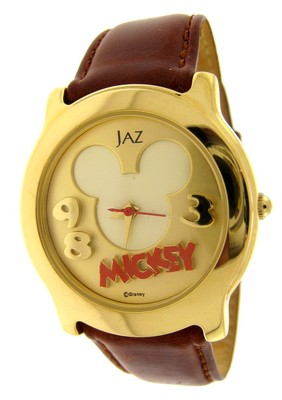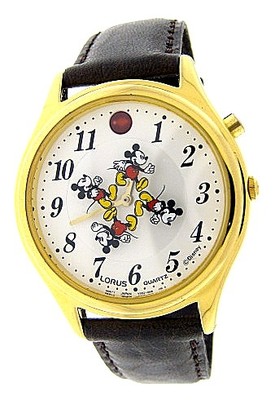 Other unique models that are highly collectible include two Melody Mickey Mouse watches with alarms, a pair of rare automatic movement men's Mickey Mouse models, and some very unusual dual time watches that are all high on watch collector's lists for "must have" models.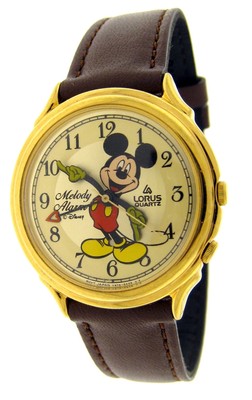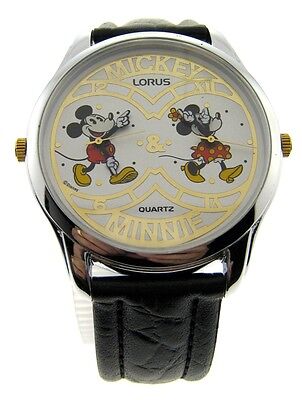 Lorus also manufactured a very popular oversized watch series, with the most notable the Mickey and Minnie mouse models which sell out very quickly on eBay and collector's sites. Another huge favorite during the holidays is the Santa Claus Mickey Mouse musical watch, which comes in a variety of colored leather bands including red, black, and green, with small Mickey faces embossed on either end.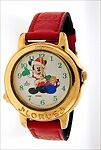 Other models in the early Lorus series that are very hard to find include the Hollywood Mickey model (with Mickey in a top hat and rare long pants) and the 50th Anniversary Fantasia Disney watch that features Mickey shaking hands with the movie conductor Leopold Stokowski.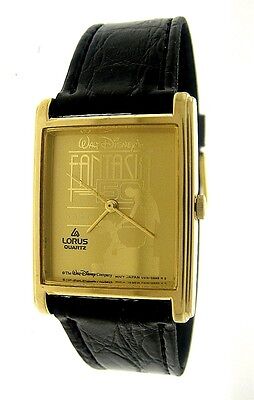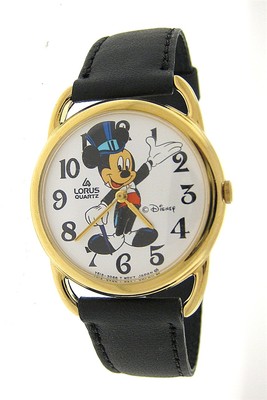 IDENTIFICATION
Early Lorus watch models have the Lorus Quartz logo on different areas on the dial. In the early Mickey Mouse model shown at top, the logo is printed on the dial at the bottom in small lettering between the six and seven and the five and six. In this model "The Walt Disney Company" is printed underneath the Mickey figure. In the plastic case models, the Lorus Quartz logo is on the dial with the Lorus insignia and includes a Disney copyright. Some include "The Walt Disney Company" logo while others do not. They all feature a tiny classification code at the bottom of the dial, usually starting with the letter V and composed of about eight individual letters and/or numbers which may or may end with a pair of numbers and letters in a box (ex. V515-6060 [A1]).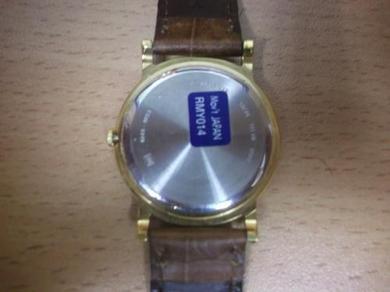 Early Lorus stainless steel casebacks are printed simply with "Water resistant, Stainless Steel Back, Base Metal Bezel," and the aforementioned model number eight-symbol classification code. The early plastic back models state "Water Resistant, Plastics" and the classification number from the the front of the dial along with "Shiojiri Ltd. Japan" and a small round area which can be removed for battery replacement.
Later plastic models have the Lorus name on the back with the "Water Resistant, Plastics" and the classification number from the the front of the dial but simply "Movt. Japan". The later stainless steel watch cases usually have the Lorus or Jaz logo in the center of the caseback, along with the same information as the early metal casebacks but listed in sequential order in the middle of the caseback rather than running around the perimeter. Many musical Lorus watches have a multi-tiered, oversized caseback with openings to emit sound. These have the same information printed on the caseback as other stainless steel case models.

Almost all Lorus watch models initially had a blue rectangular sticker placed on the caseback with the model number. These, however, may be lost due to the age of the model and the fact that the adhesive has since dried out and have fallen off. Early sticker includes the letters Ref. with a model number such as R MF353. Later models may have "Mov't Japan" printed at the top followed by the model number.
********************************************
There are many other delightful collector's pieces from Lorus, of course, that will not all fit in this guide, including Mickey and Minnie talking and musical watches and other glowing dial timepieces. Many of the pieces we have listed here are included in other collectible comic watch reference and guide books, as well as models that are top sellers on eBay and other collectible watch sites. These models would make excellent additions to any character watch collection or a fabulous gift idea for your favorite Disney fan.
Please note that while we would love to include more photographs of the items described, photos on guide pages are limited.
Thank you for viewing our guide! We appreciate your taking the time to do so, as these guides are provided for your enjoyment and take a great deal of time and effort to present here.
Check out similar eBay guides that we have published on character watch collecting:
eBay Guides - BASIC WATCH CARE PROLONGING THE LIFE OF YOUR WATCH
eBay Guides - BUYING A COLLECTIBLE BRADLEY DISNEY WATCH
eBay Guides - COLLECTIBLE CHARACTER WATCH REFERENCE GUIDE BOOKS
eBay Guides - CHARACTER WATCHES - A UNIQUE AND MEMORABLE GIFT IDEA
eBay Guides - STORING YOUR COLLECTIBLE WATCH PURCHASE
eBay Guides - DISPLAYING YOUR CHARACTER WATCH PURCHASE
eBay Guides - COLLECTIBLE TIMEX SNOOPY CHARACTER WATCHES GUIDE
eBay Guides - SAVE MONEY ON EBAY FEES FOR BUYERS AND SELLERS